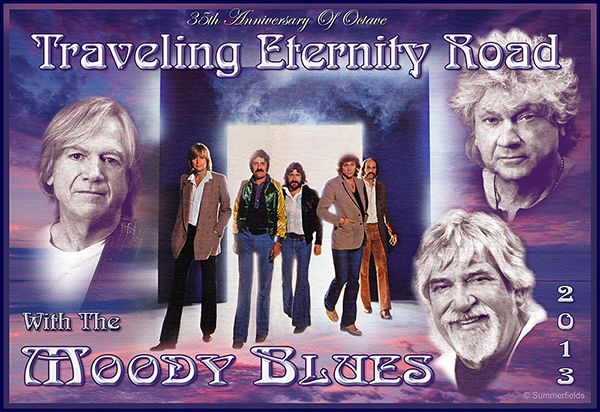 I want to wish all of our readers at TER a very happy New Year, as I also sincerely thank all of you who have contributed to our board this past year.
Those of you who brought us your stories and pictures, and those who responded inside our threads, have helped to keep up our Moody Blues "diary", these pages of history of the band, and really, of us all.
I was thinking how incredible it seems now, that it has been a whopping thirty-five years since the last album was released by that beloved (and I will call it "most famous") incarnation of the Moody Blues, the special group of souls who brought us those phenomenal, now-classic, record albums that began with
Days of Future Passed
, and ended with
Octave
, albums that set in stone a generation of die-hard Moody Blues fans, before an inevitable fracture closed that door, apparently permanently.
I thought I would acknowledge that particular "bookend" as this year's main banner.
As the band continues on for this new year, we will be around -- as long as YOU are -- to capture the latest sights and sounds.
Please feel welcome to join in with us: you are cordially invited to help make our community a good one throughout all of its forums, whether here in Moodies Hall, sitting comfortably in the Village Pub, or showing your photos in the galleries. It's only here for you.
Community: it's a
good
thing.
So here's to a great 2013, however it rocks and rolls!