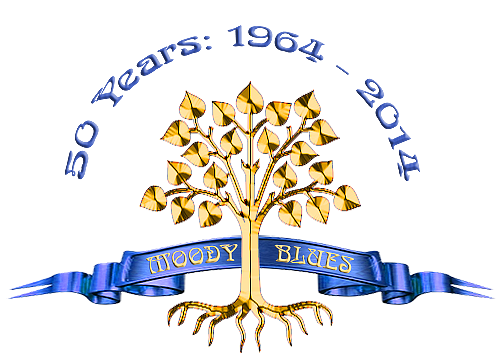 1966 - 1969
*  While we are celebrating 50 years of the Moody Blues, it seems appropriate to start these threads by including some interesting information that we've gathered on the band and their work, and also background notes for those times.

*  Underneath the album images in each section, you'll see links to matching discussion threads from our TER archives, which (in some cases) include more info and some of our members' reviews.  You can also find links to our Album Lyrics forum, where more info on each album is kept; and occasionally, links to individual song discussion threads.

*  We invite our readers to share here their own memories, impressions, experiences, art works, writings, souvenirs, photos, posters, articles, whatever you have from those particular times that connects your life with the Moody Blues.


THE TIME MACHINE:  Some cultural standouts from this time period:
1966
March 4 -- In an interview, John Lennon states that they are "more popular than Jesus, now".
April 8 -- Time Magazine cover story asks
Is God Dead?
.
April 19 -- Bobbi Gibb becomes the first woman to run the Boston Marathon.
April 30 -- Regular hovercraft service begins over the English Channel.
May 16 -- Legendary album
Pet Sounds
by The Beach Boys is released.
August 29 -- The Beatles end their U.S. tour with a concert at Candlestick Park in San Francisco.
September 8 -- Star Trek debuts on NBC-TV in the U.S.
September 19 -- Timothy Leary forms the spiritual group League for Spiritual Discovery.
October 6 -- LSD made illegal in the US. 
November 9 -- John Lennon meets Yoko Ono at the Indica Gallery.
December 15 -- Walk Disney dies while producing The Jungle Book.
Complexity in rock reaches new heights with the Beatles
Rubber Soul
album, and is quickly responded to by the Beach Boys
Pet Sounds
, which ignites the studio-era of rock 'n' roll as records become artistic statements.
Psychedelic rock music begins its meteoric climb with songs such as the Byrds
Eight Miles High
, and The Beach Boys
Good Vibrations
.
Top musical artists of the year also included The Lovin' Spoonful, Simon & Garfunkel, The Mamas & Papas, Petula Clark, The Monkees, and The Association.
Number One hits included: 
I'm A Believer, You're my Soul and Inspiration, Ballad of the Green Berets, Winchester Cathedral, We Can Work It Out, Summer in The City, Cherish, Wild Thing, Paint It Black, My Love, The Sounds of Silence, Paperback Writer, Last Train To Clarksville, Poor Side of Town, These Boots Are Made For Walkin', Sunshine Superman.

1967
January 27 -- Apollo 1:  US astronauts Gus Grissom, Edward Higgins White, and Roger Chaffee are killed when fire breaks out in their Apollo spacecraft during a launch pad test.
March 26 -- In New York City, 10,000 gather for the Central Park Be-In.
April 15 -- Large demonstrations are held against the Vietnam War in New York City and San Francisco.
April 27 -- Montreal, Quebec, Expo 67, a World's Fair, officially opens.
June 1 -- The Beatles release
Sgt. Pepper's Lonely Hearts Club Band
, nicknamed "The Soundtrack Of The Summer of Love":  number one on album charts throughout the summer.
June 5 -- Six Day War begins:  Israel occupies the West Bank, Gaza Strip, Sinai Peninsula, and Golan Heights after defeating its Arab neighbors.
June 12 -- The U.S. Supreme Court declares all U.S. state laws prohibiting interracial marriage to be unconstitutional.
June 16 -- The Monterey Pop Festival begins, lasts three days.
June 25 -- 400 million viewers watch Our World, the first live, international, satellite television production.  It features the live debut of The Beatles' song
All You Need Is Love
.
July 1 -- Canada celebrates its first 100 years of Confederation.
July 30 -- Race riots in Milwaukee lead to ten-day shut down of the city; riots spread to Washington, DC.
August 15 -- The UK Marine Broadcasting Offenses Act declares participation in offshore pirate radio illegal.  Radio Caroline continues broadcasting.
August 27 -- Beatles manager Brian Epstein is found dead in his locked bedroom.
October 17 -- The musical
Hair
opens off-Broadway.
November 27 -- The Beatles release Magical Mystery Tour in the U.S. as a full album.
Number One hits included: 
To Sir With Love, Daydream Believer, Windy, Ode To Billy Joe, Light my Fire, Happy Together, Incense and Peppermints, Ruby Tuesday, Penny Lane.
1968
January 22 -- Rowan & Martin's
Laugh-In
debuts on NBC.
March 8 -- First student protests spark 1968 Polish political crisis.
April 2 --
2001: A Space Odyssey
premiers in Washington DC.
April 4 -- Martin Luther King, J., shot dead in Memphis, Tennessee.  Riots erupt, lasting several days.
May 13 -- Paris student riots:  one million march through streets of Paris.
June 5 -- U.S. Presidential candidate Robert F. Kennedy is shot in Los Angeles, and dies the next day.
August 21 -- Prague Spring; 750,000 Warsaw Pact troops and 6,500 tanks with 800 planes invade Czechoslovakia.
August 22 - 30 -- Police clash with anti-war protesters in Chicago outside 1968 Democratic National Convention.
November 22 -- The Beatles release their album known as
The White Album.
December 24 -- U.S. Spacecraft Apollo 8 enters orbit around the moon.    Astronauts Frank Borman, Jim Lovell and William Anders become the first humans to see the far side of the moon and planet earth as a whole.  The crew reads from Genesis.
Number One Hits included: 
Hey Jude, Love Is Blue, Mrs. Robinson, Love Child, Judy In Disguise (With Glasses), Green Tambourine.


Cutting edge rock music responds by appearing on the newly created FM radio outlets, considered "underground", favoring longer singles, more controversial material and less restrictive styles.
1969
January 30 -- The Beatles give their last public performance, filming several tracks on the roof of Apple Records, London.
March 20 -- John Lennon and Yoko Ono are married at Gibraltar, and proceed to their honeymoon "Bed-In" for peace in Amsterdam.
July 1 -- Charles, Prince of Wales, is invested with his title at Caernarfon.
July 3 -- Brian Jones, of the Rolling Stones, drowns in his swimming pool at his home in Sussex.
July 16 -- Apollo 11, with Neil Armstrong, Buzz Aldrin, and Michael Collins, lifts off toward the first landing on the moon.
July 20 -- The lunar module
Eagle
lands on the lunar surface.  500 million people worldwide watch in awe as Neil Armstrong takes his historic first steps on the moon at 10:56 ET.  They return to earth on July 24th.
August 9 -- Charles Manson murders take place.
August 14 -- British troops are deployed in Northern Ireland following Battle of the Bogside.
August 15 - 18 -- Woodstock Festival in upstate New York.
September 26 -- Abbey Road released.
October 5 -- Monty Python's Flying Circus first airs on BBC One.
December 6 -- Altamont Free Concert held at Altamont Speedway in northern California; violent, it was viewed as "the end of the Sixties".
Number one Hits included: 
Aquarius, The Year 2525, Honky Tonk Woman, Love Theme From Romeo and Juliet, Come Together.
.