Moody Blues Song Focus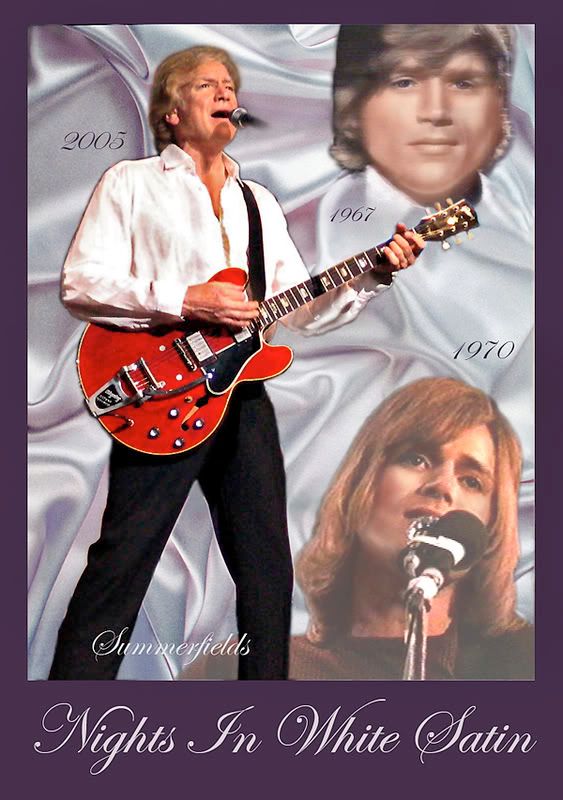 When Misty Meadows wrote and commented on her first hearing of "Nights," I thought that we really should explore some individual songs like that one -- some songs were so life-changing that they deserve their own threads.
Soooo, please do share your NIWS stories here
">
Just for starters:
MM (Leigh) wrote --
"I heard this song, a song unlike I never heard before. The melody haunted my soul!"
That's just so classic -- exactly how I felt about it in 1967 when I first heard it, and people often say that about "Nights In White Satin".
Back then, our generation's music, like everything else, was in a dynamic state of change -- we never knew what kind of new sound was going to come from the radio next, and we were very excited about it. "Nights" was something that really got our attention, and stayed -- well, for a lot of us, anyway. One common word that always came to mind, was "haunting". To this day, you can meet people who remember nothing else of what the Moody Blues ever did, and sure don't know they are still alive and kicking -- but they will say, "Oh, yeah -- I
loved
that song!"
I have a personal theory that may not hold any water, but I cling to it anyway, although it's hard to explain exactly.
On one hand, we had Justin wailing, "I Love You!" and that passionate, primordial call of his strikes people. For one thing, we all yearn to hear that. But his passion -- the guy's got that down like a master, doesn't he? Something almost instinctual, like a lone wolf that only knows he
needs
to howl at the moon. We long for passion at the gut level. How does he sound so passionate? Justin has a way of taking a note, and going all over creation with it. He doesn't just sing the note -- he
travels
with it, takes it places, explores it, carries it, makes love to you with it. Am I wrong? He makes it
special
, and when it's done, you almost want to light a cigarette. (Okay -- go for ice cream -- I don't smoke!)
Then there is the other special factor in "Nights" and that was the mellotron.
The mellotron sounds heavenly. It sounds Cathedral-like. And I think that's another thing that -- pardon me -- struck a chord inside of peoples' souls. I believe that people have an instinctual longing for a spiritual connection, and the mellotron -- glorified organ music -- finds that place of mystery. Those who just wanted a good dance-tune, weren't impressed, although, Justin says it eventually became a hot number at proms. Slooww dance...
The boy done good; and I think it surprised him as much as anyone!