The sixth album by the Classic-Moodies line-up:
Every Good Boy Deserves Favour -- 1971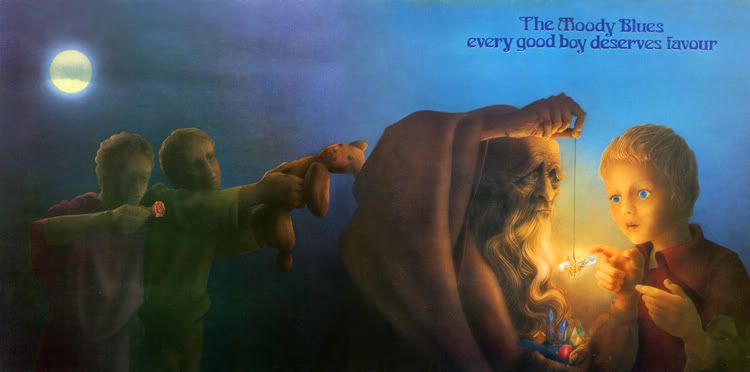 I'll start by posting bits and pieces of notes I have written about it in the past.
This album was the next one they turned out in their early-days series, after having told reviewers in 1970 that they were going to divide up on their next works by doing a Ray-Justin acoustic album, and a Mike-Graeme electronic album. So was the resulting "EGBDF" a surrendered compiling of those original intentions out of inspirational or financial practicality? Or were those ideas scrapped entirely?
I feel that this was the last of their "theme" albums, and I have a special appreciation of their talent for writing themes, so it remains one of my favorites. It was also the first album I got of theirs right at the time of release, hot off the press.
"E-G-B-D-F": The American way to learn this scale was "Every Good Boy Does
Fine," but I guess the British Boys Deserve Favour -- that sounds more
dignified to American ears!
My impressions from the songs -- I welcome further discussion:
Starting from the very suggestion given by the title, the theme explores, from the minds of these five young men stepping into the early 70's, the history and valid use made of music as communication between us, "Processing" from the time of Creation out of Desolation, into Creation's disovery of Communication and its role in our daily lives.
(1) A strong work as I hear it.
Procession
takes us through chronological stages, from the notice of nature's rumbling thunder to man's echoing, self-expressing, and signalling with drums (and with Cave Man Graeme as "Lead Grunt"), processing to complex classical music -- it is a nice creative piece, although I realize the novelty of it, especially to new hearers decades down the road, strikes some as way-too-weird.
Every Good Boys' "Creation" starts off with the warbling of a UFO -- I don't buy into certain conclusions that our "creators" settled earth from UFOs, but it was an interesting touch on Mike's part. Mike says he experienced a UFO or two, it colors his viewpoints, and he has said that he created that bit on the album to sound exactly like his encounter.
Procession takes us right up to the electronic era with...
(2)
The Story In Your Eyes
: which is in my Top Four of favorite Moody songs. A really great piece imho, and I wish they would do it straight in concert, and not detract from it's strength by superimposing the light-hearted Dino Shuffle "act" with it, which to me takes deserved attention away from profound lyrics -- it doesn't need enhancing. (I'd rather they added the Shuffle to a song that needs it, but that's just me.)
The Story In Your Eyes is beautiful, it soars, and it rocks. It's excellently written and performed, all-around.
And it contains a classic Moody Blues message. While realistically admitting fears of the future for ourselves and our progeny, it's uplifting and hopeful and encouraging.
Its lyrics are poetic and visual, and it's passionate -- just the way I love my songs. How much better can it get?
Lyric impressions:
"I'm frightened for your children, that the life that we are living is in vain"
How will our children's children's children have to suffer for our temporarily rewarded vanities?
"...And the sunshine we've been waiting for will turn to rain."
What are we gambling on -- is the risk worth it?
"When the final line is over,
And it's certain that the curtain's gonna fall..."
The day will come...
"I can hide inside your sweet, sweet love, forevermore"
The only thing that will remain when all is done, is love, and love will last forever. If we ARE love, we can take refuge in it in it forever, no matter that all else passes away.
"The sound we make together
is the music to the story in your eyes"
WE make the truest music, hopefully the music of love -- the only thing that really matters -- and it can be read as your story, in your eyes, the "window of your soul". And looking into someone's eyes DOES seem to reveal something of their soul, doesn't it? Deep subject, another thread.
"It's been shining down upon me now, I realize."
Dawning recognition of the grace and light of love.
"Listen to the tide slowly turning,
Wash all our heartaches away."
It is time: listen, and we can hear the answers that we need; if we will let them change us, all our heartaches can at last be healed.
"We're part of a fire that is burning, And from the ashes we will build another day."
All that is useless and vain or damaging must be burned away. Re-channeling the energy of our passions into desire for fashioning a better humanity and world, it could become reality. Could.
I'm afraid this song may have lost some of its initial impact over the years of watching it merely as a concert rocker to accompany the Dino Shuffle. It played a meaningful part in the "Every Good Boy Deserves Favor" story of music and the songs of our souls.
It may not be the greatest song ever written -- or maybe it is one of them, at least -- but I see it as about as definitive of the Moodies Message as one can get: Life, fear, heartache, ashes, turning tide, love, growth, then hope.
"The sound we make together is the music to the story in your eyes..." Deserves a lot of thought. I can imagine a video. (I missed my calling!)
(3)
Our Guessing Game
: We lost the musical connection here, but the introspection about life makes for great lyrics by Ray, including:
"With tomorrow, what will become of me? There are times when I think I've found the Truth...times when I know that I'm wrong -- you wonder why the world is turning around? Unhappy faces... so blind they cannot see the way life ought to be."
(Oh, yeah, I can tell Ray was born the same day I was.)
(4)
Emily's Song
: Back to the music as communication theme again, with its,
"Sing me a lullaby... and I will try to understand in what you say."
This was never a song that I gravitated towards back then, something a little too "tinkly" to me. I understand its place now, the circumstances, that John wrote it for his young daughter.
(5)
After You Came
: Never cared a lot for the sound of this song, so it's not up there in my higher ranking, but I do apprecate the lyrics:
"I have reached the top of my wall, and all I've found is another way to fall."
You scramble up high thinking it will be everything you've dreamed of, the pinnacle, all the answers -- only to discover that unfamiliar heights can prove perilous, and you're still small and weak, after all, facing ever-larger challenges.
And:
"For a while you and I were joined to eternity, then we split in two, back to me and you, like the rain, rising from the sea."
Poetic and profound image understood by anyone who has ever experienced divorce.
Album break.
(6)
One More Time To Live
: "Communication" leading into "Compassion," into "Solution."
That's a good thought. Continuing the same theme, citing all those stages of the Procession of mankind.
Gotta love:
"He who wants to fight begins the end of time."

"Turn the earth to sand and still commit no crime."
(7)
Nice To Be Here
: Excellent creation -- Ray's song on the "music as communiation" theme -- this time, of all unexpected things, creating an orchestral scene from the animal kingdom, and so full of imagery -- Ray's specialty -- I can just see it:
Leaves swaying to the breeze playing violins, bees humming, frog strumming, larks singing, Rabbit thumping, mouse playing, owl thinking...
do they have their own Procession of sorts?
(8 )
You Can Never Go Home
: One of the greatest by Justin, even if he did sort of forget about the music theme -- our wandering minstrel was obviously experiencing some personal angst that needed expressing. The contemplation on growth follows the idea well enough. I love his line:
"But time will tell of stars that fell a million years ago, memories can never take you back... home... sweet home." A highlight of the album for me.
(9)
My Song
: Mike wraps up the theme of music in trying to get through his message:
"I'm going to sing my song, and sing it all day long, a song that never ends..."
And the message as he sees it, is to:
"love with all your might, before it's too late."
I love the Voyage-type bit again, think it's absolutely beautiful. Nobody can musically narrate a mind-trip better than Mike.
Wonderful, creative album.